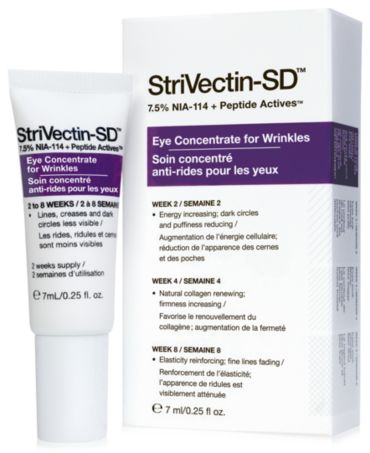 The Product
A multidimensional product that strives to eliminate crow's feet, dark circles, fine lines and eye puffiness. The
StriVectin-SD Eye Concentrate for Wrinkles
one-ups the original
StriVectin-SD Eye Concentrate
with a higher concentration of wrinkle fighting ingredients to deliver greater results in 8 weeks.
The Guts
This product is designed to work even for those with sensitive skin and is paraben, fragrance and artificial color and dye free. The main ingredients are:
Myristal Nicotinate - an ingredient that helps to repair sun damage and soothe dry, irritated skin
Cyclopentasiloxane - a silicon based ingredient that forms a smooth layer over your skin that helps to retain moisture and provide a temporary "plump" look. While not immediately dangerous, there is some evidence that this ingredient could accumulate in your body over long exposure.
Caprylic/Capric Triglyceride - an ingredient derived from coconut oil and acts as an emollient, capturing moisture into skin.
While it's great that this product's first ingredient is an active skin repairer, the next ingredient is downright misleading and the third is so common as to be utterly basic. This product also contains other silicone ingredients, leading me to suspect that you'll see temporary results, but no lasting change. On the other hand, this product also includes ingredients like caffeine, algae extract, hyaluronic acid and cucumber, all of which are ingredients that do help to moisturize and reduce puffiness.
Price & Packaging
A full sized 1 oz (29.57 mL) will set you back $72 from
London Drugs
. A sample size, as shown above, is only 7 mL and is the size that I tried. It supposedly contains a 2 week supply, but I've been used mine up in about a month and a half, despite applying it twice a day.
The packaging is straightforward - just your regular squeeze tube.
Effectiveness
The results I saw from this eye cream could be because I managed to stretch the product out 3 times as long as stated on the package, so take what you will from my review. I don't think it lasted as long as it did because I was being stingy with my use though. I applied a good sized dot of product each night and a slightly smaller amount in the morning everyday.
As expected though, I saw only temporary results, but no lasting change in the fine lines underneath my eye. I did notice a slight brightening of dark circles and the eye area felt soft and smooth, but by the end of a work day, I could definitely see my fine lines again. Sadly, this eye cream is no better than any other I've used to produce actual results.
The Verdict
Ditch
P.S. Don't forget to enter my
Metropolis at Metrotown gift card giveaway!